ANTO MORRA - 'NEVER HAD TO SHOUT'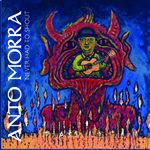 RELEASE DATE: SEPTEMBER 2ND
LABEL: AMMA
FORMATS: CD, VINYL & DOWNLOAD
CAT # AMMA001
ANTO MORRA'S DEBUT ALBUM REVEALS MORRISSEY ISN'T THE ONLY GREAT SONGWRITER IN THE FAMILY
'Never Had To Shout' is the debut album from folk artist Anto Morra, released on the 2nd September, 2013, on vinyl, CD and download.
The ten self-penned songs from Morrissey's second cousin express Anto Morra's love of both the storytelling folk tradition and the punk-rock sounds of his formative years.
Anto (real name Anthony Morrissey) was raised in London by Irish parents, and this background provides a theme that runs throughout 'Never Had To Shout', with 'London Irish' and 'Shamrock And The Rose' focussing on the political confusion of being caught between two cultures at a time when they were so opposed to each other, as the UK and Ireland were in the late '70's & '80's.
The album's opening track, 'Ballad of Anto Morra', is an unaccompanied autobiographical song and shows that, amongst many of the tracks on the album, Anto's famous relation is not the only member of the family who knows how to write lyrics that resonate with the listener. "Morrissey and I don't really know each other," admits Anto. "But I hope he gets to hear this record. I'm extremely proud of it. It's been a long time in the making."
Folk music became Anto's passion when he was recruited by a Ceili band to be their singer and guitarist in 2002. However, after ten happy years, Anto left the group to concentrate on his songwriting and solo performing.
Anto started recording 'Never Had To Shout' in January 2012, with the intention of releasing an album of his songs featuring just himself on guitar and bodhrán. That was until respected fiddle player Mike Naldrett came into the studio to play on the tracks 'Tale Of the Sligo Widow' and 'Gypsy Smile', after which Anto decided to invite more of the talented musicians he'd met on the UK's folk circuit to contribute to the album's recording. When the prolific artist Brian Whelan agreed to create the album's sleeve artwork Anto decided he owed it to all involved with the project to have the album pressed on vinyl.
As the project gathered momentum and its costs increased Anto was forced to sell his life-long collection of vinyl albums to fund it - he even considering melting down some of his vinyl and using it to press his own. Sadly, he could not find a pressing plant willing to accommodate this process. Anto said, "As painful as selling my vinyl collection was, I felt there was something quite poetic about it."
Based in Norfolk, Anto has become a regular performer at the English Folk Song And Dance Society's Cecil Sharp House in London, and between 2003 and 2011 he ran a sing-around folk club and got to know a large number of performers in the area. Having earned his peers' respect, Anto curated the Acoustic Music Festival in Norfolk in 2008 and 2011, with over 40 acts each year travelling from all over the UK to perform.
To precede the release of 'Never Had To Shout', Anto will perform an exclusive show on the 3rd August at the home of London's West End folk music club The King & Queen (1 Foley Street, London W1W 6DL), where Anto will be joined by many of the great musicians that perform with him on the album.
For further information please contact Dave Clarke at:
Tel:+44 (0) 7966 557774 or E-Mail: dave@planetearthpublicity.com
www.planetearthpublicity.com