Aisling Jarvis to release 'A Handful of Bad Ideas' album on September 1st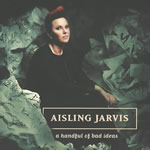 AISLING JARVIS
'A HANDFUL OF BAD IDEAS'
RELEASE DATE: 1st
SEPTEMBER 2014
RECORD LABEL: BEO RECORDS
FORMAT: 1CD & DOWNLOAD
CAT #: BEOCD008

AISLING JARVIS CONTINUES FAMILY'S RICH MUSIC HERITAGE ON DEBUT ALBUM

Due for release on September 1st 2014 on BEO Records, 'A Handful of Bad Ideas' is the debut album from 22 year-old Dublin singer/songwriter and music producer Aisling Jarvis.
The daughter of Clannad's Moya Brennan , Aisling musical upbringing comes to the fore on her self-produced debut, performing a myriad of instruments throughout the album, including guitar, bouzouki, uilleann pipes, keyboard, and percussion – to which she adds her distinctive vocals on the album's eleven songs.
Musically, 'A Handful of Bad Ideas' is an amalgamation of genres including pop-punk, mainstream pop, acoustic and alt-indie. There are also many subtle Irish Celtic musical influences in the sonic melting pot which, married to Aisling's coming-of-age lyrics, serve to create a deeply personal solo album.
Topics such a relationships, self- identity and mental health are recurring themes throughout the album, which features contributions from vocalists Eve Belle and Megan Nic Ruairíon the song 'Thoughts' (the latter singing the the song's bridge in Irish), and Euan Murphy on 'The Kids We Used To Be'.
"The album's closing song 'Call Me Home' was written by one of Aisling's best friends, David McAndrew, as she explains, "He managed to take probably one of the most poignant and confusing times in my life, and lay it out in such a way that it even made more sense to me. I couldn't see the album finishing with any other song."
Having toured extensively in Europe and the USA as a permanent member of her mother Moya's band, the release of 'A Handful of Bad Ideas' looks set to make 2014 a big year for this young Dublin singer/songwriter in her own right.
A track-by-track guide to 'A Handful of Bad Ideas', by Aisling Jarvis Your Shoes Don't Fit – This song is about the time in a relationship when you and your significant other might break up for a couple of months, and they start seeing someone else during that time apart. This song is aimed at that person they started dating. It's really an "I win, you lose!" kind of song, really rubbing it in that they ruined it and because of that you get another chance to prove yourself. Of course it is aimed at a specific person, who shall remain nameless, although they are not so subtely hinted at throughout the song!
My Words and Sounds –This song is me talking to my girlfriend, trying to tell her that although it can sometimes be unbelievably difficult to try and be who we really are, that at times it may hurt those we care about, and it may be unbearbly painful, that it all pays off in the end. "At the end of the day, your happiness is what should come first" is what I am saying in the song. There is also a hint of self reassurance in the song, almost telling myself the same thing, that I wouldn't be in the posiiton I am today if I hadn't put my own well being and happiness first when it really mattered.
Thoughts – I wanted this song to be a powerhouse of Irish "girl power", as cringey as the words "girl power" sound. The song itself doesn't particularly have a set theme, although it does hint at an angsty love sort of vibe. I think I was trying to tap into that feeling when I was writing it, getting into the mind set of the two girls, Eve being 16-years old, and Megan being 18; trying to remember how I thought back when I was their age, and how I viewed the world, and love. I had written my verse and the chorus and sent it to the girls. I hadn't even heard what they'd written for their parts until I recorded them singing it in one of the bedrooms of our house up in Donegal. Eve Belle (who sings verse two) has the song writing abilities, at the age of 16, of someone at an entirely different level of maturity that would leave anyone speechless. Megan Nic Ruairí (who sings the bridge in Irish) has an amazing talent for singing in Irish, and the words she wrote for this song in Irish are stunning. I don't think this song is in need of a set storyline or theme, because I think what makes this song so strong is all three voices being so powerful together, and all our solo parts of the song really showing off our own individual styles of writing, as well as complementing each others. This would be, without a doubt, my favourite song on the album.
Fragile – Fragile is a break-up song coming from the point of view of the person doing the breaking up. I wrote this song when I was 16, and it is simply about knowing that it won't work and trying to show the other person why, while at the same time trying to really not hurt their feelings.
Dying to Know – This song is quite a personal song about being in a relationship with someone who struggles with certain aspects of their mental health. It is me trying to come to terms with the fact that I may well never know what it feels like to think the way they think, while at the same time desperately trying to get them to let me in.
The Kids We Used to Be – This is the fun song on the album. Myself and Euan Murphy, the other main vocalist on this song, always go to pop-punk gigs together and that is what this song is about. Going to a concert and losing yourself in the madness of it all. The lyrics and title "The Kids We Used to Be" relates to the sort of audience that would be at the kind of shows we would go to. All the bands we would go see together would very much attract a younger emoteeny-bopper sort of crowd, and that used to be us when we were 14/15/16-years old. We don't care that we may be 4 or 5 years older than everyone there, because we are pumped and ready to go a bit crazy, just like the rest of them. The trad element to the song is a bit unusual, but I felt that it needed a bit of an Irish element to give it a unique sound. I wanted to inncorporate certain aspects of pop-punk into the song, such as the gang vocals and even the style in which Euan sings is very pop-punk. It's just an all round fun song about something that we all love to do, losing ourselves to good live music.
When You're Here – When You're Here is another song I wrote when I was 16. The song has come a long way since then though, over the years I have added words to it and the ending only finally came about when I went to record the song. So I think it probably relates more to now than it would have when I was 16. It is a love song about not being able to do without that certain someone in your life, and knowing that you have messed up and trying to convince them that, really, you can't live without them.
Ghosts (Interlude) – This song only came in to being the day before I was bringing the songs to be mixed. I was tracking the piano for "I'm All About Experiments, Me" and the chords on the piano just kind of came out of me, so I reckon a part of me knew that there was still some things to be said on the album that I hadn't expressed in any of the other songs. That is very much what this song is for. Especially with the line "Babe if you think that someone's haunting you, Well I've got some ghosts with me too", for very personal reasons, that is something that I really needed to be expressed to the person that the song is aimed at.
I'm All About Experiments, Me – This song was originally a semi-instrumental electronic song that I put toget her back in 2007/2008. I loved the piano line in it and wanted to bring it back and use it again. My good friend James O'Neill and I worked on the lyrics for this one together, and the song plays around the idea of being used by somebody but managing to pick yourself up again and go "Ya know what, I'm gonna get the better of this situation and turn things around."
Wyoming – This is very much a break-up song. Looking over a relationship and thinking of the things we went through and did. The word "Wyoming" is a private joke between me and this person, and the whole song is about being nostalgic thinking back on the time we spent together. It also is me saying to this person that I would never want to lose them as a friend, because they mean too much me.
Call Me Home – This is probably the most personal song on the whole album, and it was written by one of my best friends David McAndrew. He wrote it for me after he and I had a long converstion about how I felt after coming out to our church, and had to stop going because it was very clear that people's view of me had changed; and he absolutely nailed it. He managed to take probably one of the most poignent and confusing times in my life, and lay it out in such a way that it even made more sense to me. The group vocals/choir that come in at the end of this song is something that I really wanted in this track, because it needed to show that I am happy. I couldn't see the album finishing with any other song.
www.facebook.com/AislingJarvismusic
For further information please contact Dave Clarke at:
Tel:+44 (0) 7966 557774 or E-Mail: dave@planetearthpublicity.com
www.planetearthpublicity.comTwitter: @PlanetEarthDC