DEBUT ALBUM FROM HOTLY-TIPPED SOUL PROTÉGÉ HOLLIE STEPHENSON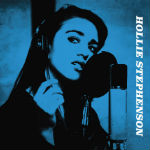 RELEASE DATE: 6th MAY 2016
RECORD LABEL: MEMBRAN / D.S.E
FORMET: CD & DOWNLOAD
CAT # DSE234061
DEBUT ALBUM FROM HOTLY-TIPPED SOUL PROTÉGÉ HOLLIE STEPHENSON
Soul protégé Hollie Stephenson releases her self-titled debut album via the Membran/D.S.E label on 6th May 2016.
Discovered, managed and produced by former Eurythmics star Dave Stewart, Hollie Stephenson is an 18 year-old singer-songwriter unlike any other teenager in music. Since the age of three, she's been obsessed with jazz, blues and soul, a passion that goes some way to explaining the staggering quality of her singing skills. Blended, channelled and made fresh by this youngster, those great, iconic pre-pop and pre-rock vocalists are brilliantly reborn in Hollie.
When London-based Hollie was 12 years-old she wrote her first song, Stone Tears. With an almost unthinking, can-do spirit, she also decided to get herself a gig at Camden's Bar Vinyl. It was a grainy recording of this song performed live that caught the attention of Grammy and BRITs award-winning producer Stewart.
Following a period of mentoring, Stewart eventually invited Hollie to his studio in LA. There, the first half of her debut album was recorded, all live, in a circle with some of the best musicians on the West Coast. While in the US, Hollie performed a few shows in LA, to rave reviews. American Songwriter Magazine was "positively stunned - and enthralled - by her performance".
The second half of the album was recorded in Port Antonio, Jamaica with Stewart at the helm. On the island, acclaimed documentary filmmaker Mark James was filming a piece about some amazing lost Jamaican archives. James had seen Hollie perform in London in early 2015, so as part of that project James had Hollie "duet" with the late Dennis Brown on the track, 'When You Get Right Down To It', a song he had recorded but never completed when he himself was a teenager. James became so fascinated with Hollie's singing and songwriting that he is now in process of completing a documentary about her.
Hollie's self-titled album follows the release of single 'Lovers Game', and a series of shows across London.
Hollie will open for The Puppini Sisters throughout their UK tour of March 2016:
Thursday, 3rd March - Gateshead, Sage 2 (Tickets)
Friday, 4th - Lytham, Lowther Pavilion (Tickets)
Saturday, 5th - Cardiff, The Gate Arts Centre (Tickets)
Monday, 7th - Leeds, City Varieties Music Hall (Tickets)
Tuesday, 8th - Liverpool, Epstein Theatre (Tickets)
Thursday, 10th – London, St James Theatre* (headline show) (Tickets)
Saturday, 12th - Stockton-on-Tees, Stockton Arc (Tickets)
Monday, 14th - Bury St Edmunds, Apex (Tickets)
Tuesday, 15th - Warwick, Warwick Arts (Tickets)
Wednesday, 16th - Milton Keynes, Stables (Tickets)
Friday, 18th - Southampton, Concorde Club (Tickets)
Saturday, 19th - Wimborne, Tivoli Theatre (Tickets)
Sunday, 20th - Bath, Komedia (Tickets)
Monday, 21st - Dartford, Orchard (Tickets)
For further information please contact Dave Clarke at:
Phone: + 44 (0) 7966 557774
E-mail: dave@planetearthpublicity.com
Web: www.planetearthpublicity.com
Twitter: @PlanetEarthDC