Dee Delroy Williams - 'Singer Man'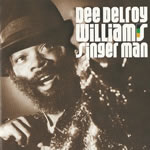 Release Date: October 8 th 2012
Label: SunSka
Format: 1CD & Digital Download
Genre: Reggae
Catalogue Number: SSR01
UPC: 5052442001973
Put quite simply, Leon Delroy Williams is a man of immense talent. During a career spanning over thirty years he has made his mark as a singer, songwriter, impresario, producer and actor, achieving eminence in each field with seemingly effortless ease.
Of humble roots, Delroy was born and raised on a farm in Bamboo St. Ann, Jamaica, finally leaving the island at the age of nine to settle with his parents in England. By this time, he had long since developed a keen interest in music and in the mid-sixties his singing and dancing skills led to his involvement with a local soul band. Delroy's talents were promptly recognised by the artist agency, Commercial Entertainment and over the next few years, he performed in clubs, RAF and US military bases, and colleges the length and breadth of the UK.
His musical education was further broadened when he signed with the Mecca agency, which arranged gigs around Europe, and by the late sixties, Delroy had gained a reputation as one of the hottest live acts around. He was also one of the most enterprising, and while still a teenager arranged the first open-air Reggae festival, held in London's Brockwell Park in September 1966. The event proved so successful that it ran until 1971, with the idea later embraced by the Rolling Stones whose Hyde Park was hailed as breakthrough for live music!
Delroy finally made his recording debut with Bell Records in 1968, before cutting his hugely popular Reggae versions of Ben E. King's R&B favourite. 'Don't Play That Song' and Billy Joe Royal's Pop hit, 'Down In The Boondocks', both of which saw issue on Trojan Records.
Over the years that followed, Delroy continued to remain a firm favourite on the UK and Europe Reggae and Soul scene, but following the birth of his daughter in 1977 he decided to retire form performing altogether. During this break, Delroy studied drama and honed his acting skills. He soon put these to good use in a number of role for TV programmes such as 'The Saint', 'Petticoat Junction', 'Us Girls', 'The Bill' and 'The Knock', as well as appearances in TV adverts for Puma and Castle Music's best-selling CD compilation, 'One Step Beyond'.
In the meantime, Delroy's love of music had drawn him back to the industry and in 1981, he became manager of Reggae legend, Desmond Dekker. He also found his own singing skills being utilised once more as he became a full-time member of Desmond's backing band, the Aces.
In addition, the knowledge, acquired through his years of experience in the music business, along with his people skills led to a position as consultant to Sanctuary Records, advising the company on all matters relating to the world of Reggae.
In 2004, Delroy was back in 'The Bill', starring in two episodes as James Simon the Rastafarian who refused to give blood after being charged for drink-driving. Soon after, he appeared in the Hollywood movie blockbuster, 'Batman Returns', which was promptly followed by a role in the British film, 'The South Londoners'.
In recent years and following the sad passing of Desmond Dekker the many talents of DD Williams were called upon by reggae legend Prince Buster for which the mighty man became a trusted backing singer and fellow soul mate.
What you now hold in your hands is the new classic album by DD Williams a true showcase to a true reggae legend.
Play this CD loud and let the vibes ring out.
Dee Delroy Williams
'Singer Man'
TRACKLISTING
1) Dreamland (3.54)
2) What Am I Living For? (3.29)
3) Tide Is High (3.30)
4) Still Haven't Found What I'm Looking For (3.29)
5) Small Axe (3.15)
6) Warm And Tender Love (3.27)
7) Singer Man (3.02)
8) Sold Out Of My Mind (3.12)
9) Rude Boy (2.57)
10) Rivers Of Babylon (3.40)
11) Monday Morning Feeling (3.06)
12) Me A Come (3.46)
13) Let Your Yea be Yeah (3.00)
14) We Don't Talk Anymore (3.38)
15) Dance Crasher (2.56)
For further information please contact Dave Clarke at:
Phone: + 44 (0) 7966 557774