ELEANOR MCEVOY TO TOUR UK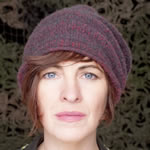 IRELAND'S INTERNATIONALLY ACCLAIMED SINGER-SONGWRITER ELEANOR MCEVOY TO TOUR UK
"One of the few artists who can do no wrong whatsoever." - BBC Radio 2
Ireland's internationally acclaimed singer-songwriter Eleanor McEvoy will embark on an eighteen-date UK tour throughout February and March 2015.
Known for touring in her own black hearse, McEvoy's live performances are intimate, emotional, uplifting affairs in which she explores soul, love and humour, using own compositions and interpretations from other songbooks in her rich, lilting voice and beautiful playing.
Now based in Wexford, Dublin-born McEvoy's career originally started as a session musician, which included a long stint with The Irish National Symphony Orchestra. However, it was whilst playing with The Mary Black Band that McEvoy decided to develop her own career, and in 1992 two life-changing opportunities came along.
Mary Black and her record company manager/husband decided that McEvoy's song 'A Woman's Heart' would be a fitting title and lead single for the compilation they were putting together of contemporary Irish female performers. Simultaneously, Tom Zutaut, the legendary A&R of Geffen Records (who signed Guns & Roses, Motley Crue, and Edie Brickell), was on a scouting mission to Dublin. After hearing McEvoy perform at The Baggott Inn pub, offered her a worldwide recording deal.
Eleanor was soon touring the world to promote her eponymous debut album for Geffen, which went on to sell 250,000 copies. At the same time, 'A Woman's Heart' entered the Irish charts, selling over 750,000 copies – and remains one of Ireland's biggest selling albums of all-time. These successes established McEvoy as one of Ireland's biggest stars, launching a career that has since seen her release twelve studio albums and tour across the world.
McEvoy's latest album, 'Stuff', was release in May 2014 to great acclaim. The album was the result of a purposeful mission by McEvoy to find and release the 'stuff' the fans wanted but couldn't find. The eleven-track miscellany tells tales of unrequited love, lust and eloquent farewell; a heady brew of caustic observation laced with wit and wry self-deprecation typical of multi-instrumentalist.
In addition to performing a live session for BBC Radio 2's Weekend Wogan show, the first single released from the Stuff, 'Please Heart You're Killing Me', was playlisted by the station for five weeks, during which time Eleanor embarked on a six week sell-out tour of Australia, before returning to the UK and mainland Europe to perform further live dates.
Eleanor McEvoy's UK tour dates are as follows:
Friday, 20th February - Penylan Hall, Meifod, Powys
Saturday, 21st February - Arts Centre School Lane, Dorchester
Sunday, 22nd February - The Cellars, Portsmouth
Tuesday, 24th February - The Bicycle Shop, Norwich
Wednesday, 4th March - Trades Club, Hebden Bridge,
Thursday, 5th March - Gala Studio, Durham
Friday, 6th March - Neuadd Ogwen, Bethesda
Saturday, 7th March – Fairwarp, Lower Brailes
Sunday, 8th March - Artrix, Bromsrove
Tuesday, 10th March - Kitchen Garden Cafe, Birmingham
Wednesday, 11th March - The Stables, Milton Keynes
Thursday, 12th March - Alexanders, Chester
Friday, 13th March - St Michael Irish Centre, Liverpool
Wednesday, 18th March - Prince Albert, Stroud
Thursday, 19th March - Joiners, Southampton
Friday, 20th March - Arnold House, Masonic Buildings, Rugby
Saturday, 21st March - The Greystones, Sheffield
Sunday, 22nd March - Chapel Arts, Bath
For further information please contact Dave Clarke at:
Tel:+44 (0) 7966 557774 or E-Mail: dave@planetearthpublicity.com
www.planetearthpublicity.com