GRAHAM GOULDMAN ANNOUNCES HEART FULL OF SONGS TOUR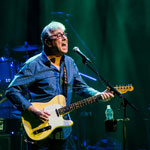 GRAHAM GOULDMAN ANNOUNCES HEART FULL OF SONGS TOUR
Through a remarkable career that started in his teens when he wrote hits for some of the country's best known bands of the day, 10cc founding member Graham Gouldman still maintains that "a good song can always be performed acoustically".
He'll be doing just that, for only the third time in eight years, when Graham Gouldman's Heart Full of Songs takes his music catalogue on the road again this September-October.
The concerts will feature 10cc classics such as I'm Not In Love, Dreadlock Holiday and The Things We Do For Love, Bus Stop – a hit for The Hollies, For Your Love (The Yardbirds) and Bridge To Your Heart (Wax), along with some new material.
The 23-date tour starts on 21 September at Peterborough's Key Theatre and ends at The Shaw Theatre in London on 20 October, visiting Scotland and Wales along the way.
Graham formed what became Heart Full of Songs six years ago, purely for the pleasure of playing his songs in their simplest form: acoustically. Then backed by his fellow 10cc band members, Graham began opening 10cc shows by performing a selection of the hits he'd written for other artistes.
The format became so popular that it adopted the name Heart Full Of Songs, undertaking its first stand-alone concert tour in April-May 2013, and touring again the following year.
10cc's success over the past three years has been such that the first opportunity for Heart Full of Songs to tour again is this September-October.
Now a quartet featuring Iain Hornal, Ciaran Jeremiah and Dave Cobby, much has happened for Graham since he last took Heart Full of Songs on the road.
Looking ahead to the tour, Graham said, "I am so looking forward to taking Heart Full Of Songs on the road again where I get to play and talk about some of my old songs, and explain their origins, but also play some new material that I am very proud of.
"I'm also looking forward to working with my bandmates. Iain Hornal is a wonderful musician and singer/songwriter who is a sometime replacement for Mick Wilson when Mick is not available for 10cc gigs. One of the songs we'll be performing on the tour is a co-write with Iain. Ciaran Jeremiah joined me on the last Heart Full Of Songs tour. He is a member of The Feeling and is a super talented musician and singer. On percussion we have Dave Cobby, who also happens to be 10cc's production manager.
"I hope you enjoy the gigs as much as we enjoy playing them."
Graham's status as one of the world's leading songwriters was acknowledged with his induction into the Songwriter's Hall of Fame – an arm of America's National Academy of Music – at a special ceremony in New York. Previous inductees include Noel Coward, Irving Berlin, Burt Bacharach, Neil Sedaka, John Lennon, Paul McCartney, Bob Dylan, Bruce Springsteen, Elton John, Leonard Cohen and Sting.
America's Broadcast Music Incorporated followed suit and anointed Graham an Icon of the Industry at a special ceremony in London, where he wowed the audience with a stunning acoustic rendition of I'm Not In Love, accompanied by Lisa Stansfield on vocals.
More recently, the BBC4 documentary I'm Not In Love: The Story of 10cc featured clips of Heart Full of Songs, while 10cc appeared on BBC1's The One Show on 14th February, where he was interviewed and performed with 10cc on BBC2's Later…with Jools Holland.
Born on 10 May 1946 in Manchester, Graham was given his first guitar at the age of 11 and started playing with local bands at 15. He received early encouragement to develop his musical talent from his mother Betty and father Hymie, who also contributed with suggested lyrics and song titles.

Graham played with various Manchester bands before forming The Mockingbirds in 1965 (with Kevin Godley on drums), and when the record label Columbia rejected Graham's first single composition for the band, it turned out to be a blessing in disguise. The song, For Your Love, became a huge hit for The Yardbirds.
Working by day in a men's outfitters shop and playing by night with his semi-professional band, Graham went on to write a string of hits, such as Pamela, Pamela for Wayne Fontana, For Your Love, Evil Hearted You and Heart Full of Soul (The Yardbirds), Bus Stop and Look Through Any Window (The Hollies), No Milk Today and Listen People (Herman's Hermits), and Tallyman for Jeff Beck.
In 1972, along with Eric Stewart, Kevin Godley and Lol Creme, he formed 10cc and enjoyed a string of Top 10 hits, including three No 1s - Rubber Bullets, I'm Not In Love and Dreadlock Holiday – along with Donna (No 2), Art For Art's Sake and Good Morning Judge (both reaching No 5), The Things We Do For Love and I'm Mandy Fly Me (6), and The Wall Street Shuffle (10).
It's the enduring popularity of these tracks and Graham's love of playing songs acoustically, that led to the formation of Heart Full of Songs, which features many of these songs, Bridge To Your Heart (from Graham's time in Wax with the late Andrew Gold) and other compositions including film sound tracks and material from his acclaimed solo album Love And Work.

For lovers of perfectly-crafted music performed by the composer, a Heart Full of Songs concert is truly an exquisite experience.
The full list of dates is as follows:
Sept 21 Peterborough Key Theatre
Sept 22 Buxton Pavilion Arts Centre
Sept 23 Colwyn Theatr Colwyn
Sept 24 Salford Quays Theatre
Sept 25 Leeds City Varieties
Sept 27 Aberdeen The Lemon Tree
Sept 28 Dundee Cardyne Theatre
Sept 29 Glasgow New Auditorium
Sept 30 Oswaldtwistle Arts Centre
Oct 1 Gateshead Sage 2
Oct 3 Liverpool The Epstein Theatre
Oct 4 Bury St Edmunds The Apex
Oct 6 Pontardawe Arts Centre
Oct 7 Cardiff The Gate Arts Centre
Oct 8 Bewdley Bewdley Festival
Oct 9 Gloucester Guildhall
Oct 10 Harpenden Public Halls
Oct 11 Horsham The Capitol
Oct 15 Worthing Connaught Theatre
Oct 16 Milton Keynes The Stables
Oct 17 Winchester Theatre Royal
Oct 20 London The Shaw Theatre
Notes.
·I'm Not In Love (co-written by Graham) has been played over five million times on US radio.
·YouTube videos of I'm Not In Love, both old and with the current 10cc band, have been viewed more that 30 million times overall.
·Things We Do For Love (co-written by Graham) has been played over 3.5 million times on US radio.
·Dreadlock Holiday (co-written by Graham) is featured on the soundtrack of the 2010 film The Social Network, about the founding of Facebook.
·I'm Not In Love was part of the soundtrack of the film Bridget Jones: The Edge of Reason.
·Bus Stop (written by Graham for The Hollies) has been played over four million times on US radio, while For Your Love (a hit for the Yardbirds) has been played more than two million times on US radio.
·Wax, featuring Graham and the late Andrew Gold, sold more than two million albums worldwide, helped by hit singles Bridge To Your Heart and Right Between The Eyes.
·I'm Not In Love is a lead track on the 2015 blockbuster Disney film Guardians of the Galaxy, which grossed $635 million (£512m) in its first two months in US cinemas and resulted in a No 1 album.
·10cc has sold more than 30 million albums worldwide.
For further information please contact Dave Clarke at:
Phone: + 44 (0) 7966 557774
E-mail: dave@planetearthpublicity.com
Web: www.planetearthpublicity.com
Twitter: @PlanetEarthDC