Jon Allen: New Album 'Deep River' Set For Release On 7th July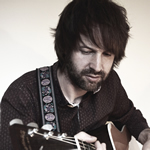 RELEASE DATE: 7th JULY 2014
LABEL: MONOLOGUE RECORDS
FORMAT: CD 7 DOWNLOAD
CAT #: MONOLGCD3
DISTRIBUTION: ABSOLUTE VIA UNIVERSAL
JULY RELEASE FOR NEW JON ALLEN ALBUM DEEP RIVER
Acclaimed singer-songwriter Jon Allen will release his new album Deep River on 7th July, 2014 on Monologue Records. The album, the third of Allen's career, will be preceded by the release the album's opening track "Night & Day" as a single on 19th May.
Jon Allen has a voice you don't forget. Just ask Jools Holland, who demanded Jon appear on "Later…" after hearing him on the radio. Or Duffy, who heard his version of "Mercy" and called him in to the studio – only to find that he wasn't the black soulman she had imagined. Or the millions of viewers of "Homeland" transfixed by his track "Joanna". Or the BBC producers repeatedly A-listing his songs. Or fans Guy Chambers, or Mark Knopfler, or Jo Whiley, all of whom have been entranced by his trademark mix of catchy tunes and folk and Sixties-inflected country blues.
Deep River contains some of Jon's best work. To him, it's simple. "I just try to write music that moves me. I'm trying to express some truthfulness. There are no gimmicks, no beeps and whistles." On it he channels everyone from Dylan to Shakespeare, via Al Green, JJ Cale and John Martyn, and even manages to write a romantic song about bankers ("I know there's not a lot of sympathy for bankers, but you can get off on retribution, and it's dangerous").
He says: "I feel a bit like I'm an outsider, now. I'm very inspired by music that feels like it comes from one of the main tributaries of blues, or jazz, or that kind of heritage. But it's OK because there's no such thing as a scene nowadays. You can jump out of the ground looking like 1959, 1979, 1989..."
And the subject matter? "It was what was coming out of me at the time. Ends of relationships, trying to figure out what the hell I'm doing with my life. I feel like there's a spiritual side to the record ­– the title track is like a Negro spiritual, about trying to let nature guide me."
It was "In Your Light", taken from Jon's 2009 debut album Dead Man's Suit that landed Jon a coveted spot on "Later… with Jools Holland". Introducing Jon, Holland described how he heard him on the radio and had to Shazam the track with his mobile to find out who the singer was before insisting he was booked for the show. "It was one of the most amazing voices I've heard this year," he explained.
Radio 2 had also picked up on "Mercy", Jon's collaboration with the band Third Degree that really shows off his soul-vocal chops. "Duffy heard it on her tour bus and contacted my manager. I ended up in Sting's studio in north London doing a session with her. She was stunned. I walked in and she thought I'd be black."
Jon's second album, "Sweet Defeat" (2011), continued Jon's rise, spawning the Radio 2 A-listed hit track "Joanna" – the song that also made it onto the soundtrack of the global TV smash "Homeland". It also landed Jon a featured slot on the BBC's Glastonbury TV coverage. "It was Beyoncé then me! I like to think that she supported me," he says. He continued landing big-name fans, including Guy Chambers, Mark Knopfler (who offered to play guitar for him), and Bob Harris, for whom he did a session; and toured extensively, both solo and with his band, appearing with Knopfler, Emmylou Harris, Damien Rice, and becoming a TV star in the Netherlands, prompting Jon to sarcastically remark, "In a year or two I could be a judge on the Dutch "The Voice".
With live appearances already confirmed for the Cornbury Festival on Saturday, 5th July, and Kew The Music on Friday 18th July, Jon Allen will soon announce details for a full UK tour in October 2014.
soundcloud.com/jon-allen-music
Jon Allen talks about the tracks on "Deep River":
Night and Day
A friend of mine says it's the sexiest song I've written; it has lyrics like, "come back and revive my senses, set fire to my skin, give me a reason to feel to feel defenceless". There's a soul vibe, like Bill Withers, Al Green, or Bobby Womack.
Lady of the Water
I was in Germany and I was walking eight miles to the hotel from the airport because there were traffic jams and I got really inspired by this drum-heavy thing I was listening to, but somehow it because an ethereal acoustic track about searching for a mythical woman. My blisters added to the pain.
Falling Back
One of the last songs I wrote for the record, it's probably very autobiographical, about the end of relationships, and falling back to a more jaded, cynical outlook.
Hummingbird Blues
This is a happy blues, inspired by John Martyn's "Over the Hill" and Bob Dylan's "Blood on the Tracks". Plus there's a Leon Russell track called "Hummingbird" that I really like.
Fire in My Heart
This song was inspired by a friend who was chasing a girl around the world. I was inspired by this idea that, "because I'm hurting, I'm in love", whereas I could see it was damaging him. I borrowed the first line from Bob Dylan. If I get sued by Dylan I'll be a happy man.
Deep River
It's about trying to ask nature to guide you, the unknown, being carried into it. I use this idea of the soldier coming back from war, empty. It's got a Neil Young vibe, a Crosby, Stills, Nash, and Young thing, with a three-part harmony in the chorus.
Wait for Me
This was written in about half an hour. I stole a bit from Shakespeare with a line about "sweet sorrow", but he can't sue so I'm OK there. It's like Nick Drake meets Fleetwood Mac's "Albatross", a song about missing someone.
Get What's Mine
I love JJ Cale, and the funkier sound of Stevie Wonder, the syncopation of different parts, of building up a groove, so I built up this groove with guitars. It's got a swagger. It's about grabbing life.
Loving Arms
This is written about somebody who had been through a lot of pain, and it's about redemption. It's a bit Ray LaMontagne, Ray Charles. Great singer Louise Marshall does backing vocals on it.
All the Money's Gone
This song is about money, but also about a woman as well and I wrote it when everything was going wrong with the economy, and from the point of view of a banker. I know there's not a lot of sympathy for bankers, but you can get off on retribution, and it's dangerous. We love to have enemies and bogeymen. My heart isn't bleeding for them, but you know…
Keep Moving On
A girl I was seeing said, "write a song about change", and so I did. It was one of those lovely situations where the lyrics to the middle eight came as I was singing the melody for the first time. It's could have been quite a big arrangement, but it ended up being simple and acoustic which let the lyric come out.
For further information please contact Dave Clarke at:
Tel:+44 (0) 7966 557774 or E-Mail: dave@planetearthpublicity.com
www.planetearthpublicity.comTwitter: @PlanetEarthDC