LISBEE STAINTON TO RELEASE NEW SINGLE ELOISE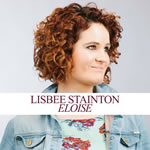 RELEASE DATE: 24th MARCH 2014
LABEL: MARIONET MUSIC
DISTRIBUTION: ACTIVE MEDIA / UNIVERSAL MUSIC
FORMAT: DIGITAL DOWNLOAD
CAT#: MARIONETCD20
LISBEE STAINTON TO RELEASE 'ELOISE' SINGLE ON FINAL DAY OF UK TOUR
On March 24th, nationally acclaimed folk-pop artist Lisbee Stainton will release 'Eloise', the third single to be taken from her latest critically acclaimed album, 'Word Games'.
The release of 'Eloise' coincides with the final date of Lisbee's biggest headline tour to-date. After successfully completing the tour's first leg at the end of November 2013, the second leg will begin on Saturday 15th March at The Haymarket in Basingstoke, before playing further dates in Cambridge, Solihull, Tewkesbury, Norwich and Milton Keynes.
These dates will follow Lisbee's tour dates as the special guest in folk star Seth Lakeman's band, where the 25 year-old Lisbee's vocals and multi-instrument contributions have been singled-out for praise by music critics across the country. Having now performed together for the past two years, Lakeman describes Lisbee as, "a fantastic singer songwriter", with their fruitful onstage partnership leading to the pair co-writing two songs for 'Word Games' ('Madron's Well' and 'The Journey'), with Lakeman also contributing vocals, viola and bouzouki throughout the album's recording sessions.
On its release in November last year, 'Word Games' became the fourth album of Lisbee's impressive career. The Independent on Sunday said Lisbee delivers, "Acoustic, melodic, earnestly upful pop", while The Daily Mirror said Lisbee's "tender inquisitive songs follow an attractive, harmony rich and melodically sure path between pop and folk structures", while Maverick Magazine declared London-based Lisbee as "a unique genre-less artist who is slowly but surely making her global mark. The suits who choose the Mercury prize nomination albums should take note."
Lisbee's says of her forthcoming single, "'Eloise' is about retaining a positive outlook on life and quickly became a favourite during the first leg of the 'Word Games' tour. It's a great song to get stuck into." Lisbee adds, "We can't reproduce the album's string quartet effect, but on tour I play 'Eloise' how I originally wrote it, which gives the song a completely different slant."
The dates for the latest leg of Lisbee Stainton's 'Word Games' tour are as follows:
March 2014
Sat 15th March – The Haymarket, Basingstoke Tickets here
Mon 17th March – Junction2, Cambridge Tickets here
Tues 18th March – Solihull Arts Complex Tickets here
Fri 21st March – The Roses Theatre, Tewkesbury Tickets here
Sat 22nd March – Epic, Norwich Tickets here
Mon 24th March – The Stables, Milton Keynes Tickets here
www.facebook.com/lisbeestainton.music
http://pinterest.com/lisbeestainton/
For further information please contact Dave Clarke at:
Tel:+44 (0) 7966 557774 or E-Mail: dave@planetearthpublicity.com
www.planetearthpublicity.comTwitter: @PlanetEarthDC