NAKED MUSIC: ELEANOR MCEVOY ALONE IN THE STUDIO, HER MUSIC STRIPPED TO THE BONE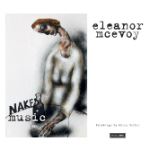 Release Date: 5th February 2016
Record Label: MOSCODISC
CD CAT# MOSCD4014 the CD
VINYL CAT#: DIV052 LP
ELEANOR MCEVOY ALONE IN THE STUDIO, HER MUSIC STRIPPED TO THE BONE
Released on Friday, 5th February 2016, Naked Music is the title of Irish star Eleanor McEvoy's new album, recorded alone in the studio to create an intimate collection of her music at its most raw - one instrument, one voice, performed live.
Best known for her songs Sophie and the Irish standard Only A Woman's Heart, Eleanor's new album features exclusive artwork by the famed painter Chris Gollon. The album will be first heard at the opening of Chris's Exhibition in Gallery Different in London on the 28th January, 2016.
The seeds for Eleanor and Chris' artist collaboration were sown after Eleanor bought Chris' painting 'Champagne Sheila' after spotting it in a London gallery. Before leaving, Eleanor left some of her music for Chris and his agent to listen to.
Cut to Norwich in February 2015 and Chris Gollon's national touring exhibition "Incarnation, Mary and Women from the Bible" in the beautiful Norman Cathedral has just opened with the artist in attendance. Eleanor visits the exhibition, lunches with Chris and David and squeezes them both into her sold-out 'ALONE' club show at the city's The Bicycle Shop venue. The outcome: heaps of chat, mutual respect and admiration and a wish to find some way of working together.
Eleanor was, at the time, finishing some recording where she was "studio-performing", playing hers and others' songs as she might at her solo shows. The recordings have a very exposed intimacy, so it seemed a possibility that Chris should be asked to do a painting for the cover in this solitary context.
As a body of work, Eleanor's recordings acquired the name 'Naked Music', which would give a better focus to the two artists' desire for mutual expression. Being offered this title, and with some song suggestions, Chris was so taken with the songs he completed four paintings in response - two on the 'Naked' theme, and two others related to song titles and lyrics. The first 'Dreaming of Leaving' was written by Eleanor and Lloyd Cole. The other 'Lubbock Woman', a downtrodden cameo, is a song by West Texan legend Terry Allen. The paintings were such a hit, that all four talked their way into the Naked Music CD artwork.
The images, the CD artwork, sat in pride of place in the Metropolis Studio and exerted some influence on the mastering and final track order.
Now there is going to be a full Chris Gollon exhibition on the theme of 'Naked Music', with his latest series of paintings inspired by all the new album tracks by Eleanor McEvoy, some co-written with Dave Rotheray (from The Beautiful South), Lloyd Cole and Nat Johnson. Visitors can come and experience the new Eleanor McEvoy album and the new Chris Gollon imagery side-by-side.
The exhibition at Gallery Different (in association with IAP Fine Art) will run for three weeks from 25th January, 2016. Having performed at the opening, Eleanor will be touring England and Wales.
'Naked Music' is officially released on Friday, 5th February 2016
"Her voice is clear and potently charged, one hundred percent believable; when her songs are bitter the acid burns your eyes, when they are sad you can taste the tears."- Sean Laffey, Irish Music Magazine
"McEvoy's voice has a depth of expression born from living the songs rather than just singing them. It's a genuine privilege to be on the outside looking in." - Jackie Hayden, Hot Press
www.eleanormcevoy.com / @eleanormcevoy / www.facebook.com/eleanormcevoy
Press View: Weds 27th Jan 6pm – 7.30pm (with Eleanor McEvoy performing LIVE selected songs from the new album, with Chris Gollon present)
NAKED MUSIC – A track-by-track by Eleanor McEvoy
Side 1
WRONG SO WRONG
About desiring somebody you shouldn't, this was on an album called Corazón featuring my songs as jazz instrumentals, it completely influenced and altered how I play the song.
DREAMING OF LEAVING
Lloyd Cole, who wrote this song with me, said at the beginning of the writing session, "there's no point in writing another mediocre song", I think this is genuinely lovely.
DELIVER ME
This started out as a highly orchestrated rant, but has mellowed into the difference between belief and the hypocrisy of so-called "moral" organizations.
WHISPER A PRAYER TO THE MOON
She thinks an enormous amount of him, but somehow it's too fast, too quick and not right just now.
HEAVEN HELP US
The chorus 'Heaven help us, what's he done this time?" was part of a song that was sadly triggered by one of those mass shootings. The song never got finished, but then, I read about a particular death… I stole a few words that Pete Townshend wrote about Brian Jones.
LAND IN THE WATER
Dave Rotheray, from the Beautiful South and the very talented Nat Johnson worked on this song and I helped out. It uses space travel as a metaphor for success.
PLEASE HEART, YOU'RE KILLING ME
This song just won't go away and in fact is about a person who just won't go away, written from the angle of the separated other half. Rodney Crowell and I wrote this at a particularly boozy songwriting week.
Side 2
THE DJ
This should be dedicated to the likes of Alex Lester and Anne Nightingale. Late at night with the headphones on you can go where the nights take you.
LUBBOCK WOMAN
"Painting her nails red in a black negligee" …I adore the Texan songwriter Terry Allen, who writes extraordinary 'true' songs about people who are neither stereotypes nor clichés but you might recognize them. The artist Chris Gollon, did a beautiful painting of such a woman for the album art work.
LOOK LIKE ME
Wanting to be an individual, not one of a type, I originally played it pizzicato on violin, this time it's on guitar.
HALF OUT OF HABIT
"Half out of habit, half out of nowhere to go" that hopeless place in which some relationship bound people find themselves
ISN'T IT A LITTLE LATE?
I wrote this song a long time ago, it holds true…the point comes in a relationship when …"however much you try to pile it on Sunshine, it's too little and too late."
OFT IN THE STILLY NIGHT
I'm obsessed by a very popular early nineteenth century Irish songwriter called Thomas Moore who added enormously to the idiom of Irish popular music. He's infamous for burning Lord Byron's diaries after his death. I added an extra musical section to what is a very beautiful song.
THE THOUGHT OF YOU
I wanted to write an Al Green type soul song. Thinking about somebody you're not supposed to be with might be as good as having a real affair, the dilemma is, if you were with that person, you might be thinking about someone you're not supposed to be with. etc.
Eleanor McEvoy will be available for interview.
For further information please contact Dave Clarke at:
Phone: + 44 (0) 7966 557774
E-mail: dave@planetearthpublicity.com
Web: www.planetearthpublicity.com
Twitter: @PlanetEarthDC