Paul Casey - Big World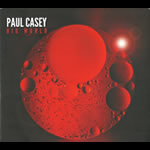 Released Date: 13th August 2012
Label: Paul Casey Music
Distribution: Right Track/Universal
Format: 1CD and digital download
Cat #: PCMCD006
Stunning Independent Album from Mercurial Northern Ireland Guitarist and Singer
"A talent like this comes along only once in a long while." - Chris Rea
"That's the best album I've ever heard – anywhere in the world." — Gerry Anderson, BBC Northern Ireland
On August 13th 2012, Northern Ireland's best-kept secret, Paul Casey, will independently release his new album Big
World' in the UK.
Hailed as one of the standout albums of recent years to emerge from Ireland, Big World' is Casey's first UK release, presenting nine epically scored musical landscapes, peppered with Casey's Celtic sensibilities and evocative lyrics that
reflect a maturity beyond his (insert age) years.
Despite displaying all the hallmarks of being produced in a world-class studio, the new album was recorded in Casey's own home studio. Every song is produced, written and performed (apart from the odd instrumental or backing vocal) by Casey, who describes Big World simply as "an album about what's going on in my head. I know how to write songs and that's all I know."
The album's tracks switch effortlessly from lavish string arrangements to upbeat pop-rock anthems with unflinching choruses. Add Casey's unmistakeable riffs and his distinctive voice and you've got a mine of wonderfully crafted songs.
The Derry star pulls no punches throughout the album, kicking off with its title track - an opening statement described by Ireland's Hot Press magazine as "an epic opener... sweeping, atmospheric, otherworldly".
Casey knew he had struck a chord when Big World was released as a single in Ireland and radio station phone lines jammed following its first airing. BBC Northern Ireland took the almost unheard-of decision of playing the song for a second time on individual shows, echoing John Peel's reaction to 'Teenage Kicks' by Derry's The Undertones. The song reveals many of Casey's influences, from the haunting lyrics reminiscent of a modern-day Neil Young, to the beautiful Pink Floyd-esque guitar solo.
On hearing a Ry Cooder record as an eleven year-old, Casey quickly developed an intriguing slide guitar technique using a piece of copper pipe, left behind by a plumber following a water leak at his childhood home the same day. To this day, Casey can't to read a note of music – he is completely self-taught by ear – which has only heightened his natural instinct for composition. Ever since, the unassuming musician has been composing, recording and producing his own work as well as that of acts around the world, while also being a much sought-after live act.
A household name in the North of Ireland, the self-effacing guitarist, singer-songwriter has been quietly honing his craft and now, with the UK release of Big World, the Derry star is set to become an international hit.
Notes to Editor
BEHIND THE TRACKS – 3 SONGS FROM BIG WORLD
"Now It's Done": While driving through Northern Ireland's The Mourne Mountains in on a rainy winter's evening, Casey pulled over to record the tune and lyric ideas for "Now It's Done" on his phone. After arriving home the album version had been written and recorded within 60 minutes.
"Different Planet": Written on a plane the day after 9/11 (in a matter of 8 minutes!) and recorded 10 years later for Big World, "Different Planet" is a poignant and touching tome with an almost-sinister undercurrent. When the child's voice is introduced, it becomes clear that Casey is also talking about a "different planet" closer to home – referencing the international headlines made by Northern Ireland in September 2011 as police shielded 45 children on the way to school against hundreds of rioters. Hope prevails in this truly global and hugely personal song where the singer lays himself bare for all to see: "It's all come about, we failed, me and you, Through the trenches, down to our children's schools, Great silver birds and now weapons of the sky, Are we trying to live or are we just failing to survive?"
"Blow Away The Clouds" sees fellow Derry native Bronagh Gallagher on backing vocals – when not on vocal duties, Gallagher has garnered rave reviews across Hollywood for her movie appearances, with recent credits including Albert Nobbs and Sherlock Holmes, as well as Star Wars and Pulp Fiction. On this track, Casey offers a more reflective side to his songwriting with raw and tender vocals encased in Gallagher's exquisite harmonies.
ABOUT PAUL CASEY:
The unassuming Paul Casey has worked away quietly and tirelessly for many years creating multi-layered sonic landscapes – although he's never been afraid to step outside of his comfort zone of his home studio – previously Casey found himself submerged in a marine aquarium with two leopard sharks and four black-tip reef sharks for a video shoot with New York director William Colby. A team of divers, medical personnel and marine biologists were brought in to supervise the shoot and despite Casey's initial apprehension, all went swimmingly in the end...
Born in Co. Derry, Northern Ireland, Paul Casey is an exceptional producer, displays an unrivalled command of slide guitar and a unique flair for penning striking tunes. Casey makes up his own rules and carves his own niche when song-writing and recording, while on the live scene he's equally at ease offering a captivating solo performance (John Butler has been known to study Casey's set from the wings!) or with full band – many of whom make up Van Morrison's band – and slide guitar to the fore.
An acclaimed producer and composer in international circles, the Derry musician is turning heads in the US. Aside from picking up solid US radio play, three of his songs have been featured on the ABC Network's hit television series "Wildfire", and he is currently writing scores for major television and film productions Stateside.
BIG WORLD TRACK LIST:
1. Big World
2. Now It's Done 3. Different Planet
4. Hindsight 5. Something's Gotta Give
6. You Are
7. Blow Away The Clouds
8. Hope (instrumental)
9. Thanks For Letting Me Crash
WHAT THEY'RE SAYING ABOUT PAUL CASEY:
"Casey was LETHAL. Fresh, rhythmic, melodic and sassy " THE ULSTER HERALD
"A brilliant slice of contemporary pop-rock… as fine a rock debut as we've heard in aeons... 9/10" HOT PRESS
"He's today's Ben Harper, tomorrow's David Gray" THE IRISH TIMES
"A radio hit waiting to happen. Casey is one to watch" RTE GUIDE
"Genius... you won't hear better than that anywhere in the world" GERRY ANDERSON, BBC
"A talent like this comes along only once in a long while." CHRIS REA
"The guitar fills worm their way into your cranium and take up permanent residence, making the track a perfect vehicle on which to marry timeless rhythms with a modern sonic approach… leaves you wanting more." HOT PRESS