RUSSELL OLIVER STONE TO RELEASE FINAL INSTALMENT OF 'ASPECTS' TRIPTYCH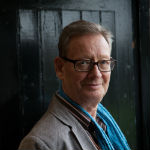 RELEASE DATE: 6th MAY 2016
Label: Stone Records
Format: 1CD and Download
Cat # SRCD003
VETERAN SINGER RUSSELL OLIVER STONE TO RELEASE FINAL INSTALMENT OF 'ASPECTS' TRIPTYCH
After overcoming tragedy and addiction, 'Devotional Aspects' is the third and final part of veteran British singer Russell Oliver Stone's 'Aspects' triptych, released on Friday 6th May on Stone Records.
The release of 'Devotional Aspects' completes a four-year creative renaissance for Stone, after disappearing from the music scene in the 1980's after struggling to come to terms with the death of his wife and musical partner, Joanne, from a brain tumour aged just 37.
In 1976, as R&J Stone, Russell and Joanne had a worldwide hit with their infectious self-penned song 'We Do It'. Following Joanne's death, Russell, earned a living on the road as a backing singer for Marvin Gaye and Tony Bennett, amongst others. However, Russell was unable to overcome his grief and found solace in alcohol, leading to dependency and many lost years.
After finally attending a rehab clinic for six weeks in 1992, Russell was determined to find a new way forward. Going back to school, Russell gained a diploma as an Integral Counsellor and, in 2004, was awarded an MA in Transpersonal Psychotherapy and Counselling, becoming a Transpersonal Psychotherapist in the process.
It wasn't until 2012 that the catalyst for Stone's musical comeback occurred, when he was approached about releasing the R&J Stone back catalogue on CD for the first time. Russell said, "I was delighted to do so, but it really got my brain buzzing. I had a bunch of songs I'd written since the '80s and had the itch to finally record them."
Following the release of the critically acclaimed out-and-out soul albums 'Love Aspects' (2013) and 'Groove Aspects' (2014), Russell said, "This process was something I needed to do to enable me to write and record new material. I'm drawing from many influences on 'Devotional Aspects', yet running through it all is my devotion to 'Self' and to life."
Working once again with respected bassist and producer Marcus Cliffe (Mark Knopfler, Paul Young, Al Green, Emilou Harris, The Notting Hillbillies), 'Devotional Aspects' finds Russell expanding his repertoire to include not only soul, but jazz, R&B and world music.
Russell said, "Some of the songs in 'Devotional Aspects' are not easy, especially 'Joanne's Lament' and 'Stop Thief,' but that is the point. This is not all easy listening. It is very rewarding, but it is not easy…although some tracks are without doubt joyous."
Russell Stone will be available for interview. For further information please contact Dave Clarke at:
Phone: + 44 (0) 7966 557774
e-mail: dave@planetearthpublicity.com
web: www.planetearthpublicity.com
A track-by-track to 'Devotional Aspects', by Russell Oliver Stone
1 Greeting (3:00) (Russell Oliver Stone, Adriano Adewale) - There is a strong ancestral/African influence in this track. It references my trip to Tanzania in 2011 and also draws on Adriano's great expertise and West African heritage. This is music in its raw elementary nature. When there are visitors to indigenous tribal villages, the villagers come out and sing greeting. This is my greeting to the listener.
2 Come To Me (4:55) (Russell Oliver Stone) - This almost didn't make it onto the album. I had completed the other tracks and suddenly remembered in meditation this beautiful song. I chose this as the single from the album especially from a social and cultural sense with what is happening in the world right now and the growing need for tolerance and acceptance.
3 Welcome Home (6:12) (Russell Oliver Stone) - More African influence with a strong highlife element embedded in the track. Marcus's remarkable ability as a musician to draw on seemingly disparate elements was crucial here and I'm in awe of him. Dennis' input was equally important, to have an authentic African voice leading the track. Chris Batchelor's playing on trumpet is exquisite in its delicacy. We're all trying to get home.
4 There's A Book (2:47) (Russell Oliver Stone, Craig Pruess) - This was written in 1980 with the wonderful Craig Pruess and is a testament to our inner guiding spirit. I had lost my wife less than a year previously, was heartbroken and drinking heavily, and yet the lyrics to this song came through. It feels so right to combine this song with my skill of harmony singing.
5 With Love (4:57) (Russell Oliver Stone, Thor Baldursson) - Another song from way back when, with love as the theme. I love the funkiness of this, and it is testament to Iceland-born Thor's groove. Doesn't matter where you're born, if the groove calls it calls - the spirit moves. And Marcus just lays it down.
6 To Have Faith (3:59) (Russell Oliver Stone) - My homage to gospel, one of my abiding love's. The song also strongly reflects my journey. Marcus bringing it home, as he always does. I am so very grateful for his input and friendship, he is quite something, a special fellow-traveller. To meet a musician who can interpret so beautifully my ideas and groove is wonderful.
7 It's A Natural Thing (6:05) (Russell Oliver Stone) - I love the gentle groove of this track, and also messing with form; instead of verse–chorus-verse, etcetera, trying out different structures. The gentleness of the track comes from the truly beautiful playing of Phil on viola, Adriano on percussion and Marcus's sensitivity. All of this is natural and it is a joy to work with such an expression of male sensitivity.
8 Joanne's Lament (9:22) (Russell Oliver Stone) - So finally I'm able to lay the ghost of my late wife Joanne to rest. To express the hurt and the pain that I felt back then and the only way that I can do that now is because of my emotional stability and groundedness. Now I can let her go and be fully in the rest of my life. The African element is also present, first bearing in mind Joanne's own African heritage, but also the sheer artistry of Nikki Iles and Enzo Zirilli jazz mastery, and of course the ever-present Marcus.
9 On Choosing Sides (5:04(Russell Oliver Stone) - Once again a song that comes out of the response to the social and cultural conditions we find ourselves in, and we are in a sorry state. War is insanity, there is no glory here, no reward - just death.
10 Stop Thief (9:30) (Russell Oliver Stone) - Can we see the commonality between us all, the unity? There is so much suffering, so much pain, if we acknowledge our own pain, that allows us to feel the pain of others, and then feel the connection with those who are suffering, right now. Once again Nikki Iles on piano, Enzo Zirillion kit, plus Marcus on acoustic bass duty show their versatility, well they are jazzers. That's what jazz musicians do, love 'em.
11 Here I Am (4:38) (Russell Oliver Stone) - After many years of hiding through behaviour and alcohol, I'm happy to say I am here, and I'm not going away. I will stay present and meet what comes towards me, whatever that may be. Marcus's ability as a string arranger is evident here and complements the song beautifully as does Chris Batchelor on trumpet.
12 Farewell (2:27) (Russell Oliver Stone, Adriano Adewale) - So we end as we began, the primal sound and a farewell to the listener.
For further information please contact Dave Clarke at:
Phone: + 44 (0) 7966 557774
E-mail: dave@planetearthpublicity.com
Web: www.planetearthpublicity.com
Twitter: @PlanetEarthDC