TOM MORIARTY RECOVERS FROM CAREER THREATENING INJURY TO RELEASE NEW ALBUM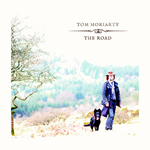 'The Road'
Release date: 3rd August 2015
Record Label: Driftwood Records
Formats: CD & download
Catalogue Numbers (tbc):
TOM MORIARTY RECOVERS FROM CAREER THREATENING INJURY TO RELEASE NEW ALBUM
The highly acclaimed British singer-songwriter Tom Moriarty returns with his new album 'The Road' on 3rd August, eighteen-months after suffering a career-threatening head injury.
It was in fact a record that might have never been released, at least whilst Tom was alive. In January 2014, Tom fell over and hit his head. He spent the next six months with concussion. "It was a close run thing, one of those where it could have gone either way. I may have never come back. It's all a haze now, there's still some issues but I'm glad to be here playing and singing again."
It was only at the beginning of this year that Tom resumed with his music, and so the album which was finished in September 2013 is released in August 2015.
The early signs for the new album are good, with Tom already having picked up a fan in David Crosby who, on hearing the album's first single 'Me And The Sun', commented, "That's beautiful…real fine. Made a good record of it, too. Hope we meet sometime somewhere." As Tom would say in the title track of the album, "I hope that we meet on the road."
Working with producer Tristan Longworth (Jon Allen, The Third Degree), Tom's new songs are a collection of observations and experiences on life's journey, whether the stories are personal or about people he's come across. Musically it builds on the blues/folk guitar roots-rock DNA of his debut album 'Fire In The Dolls House', and with Tom's beaten-up vocals hewn out of rock and soaked in brandy and cigarettes, his is a sound that inevitably draws comparisons with Martyn, LaMontagne and Vedder. "Like Eddie Vedder covering Nick Drake," said XFM.
Tom's music stems from his Irish roots, with his first musical memories coming from visits to see his grandparents in Dingle Bay, where Tom would first hear a traditional session through a bar room door and listen to his grandfather recite Dickens. It was here where he learned the importance of melody, poetry and storytelling, and where he started to explore songwriting on his first acoustic guitar.
After his childhood days Tom ended up in London for his studies at the London School of Economics where he studied socio-economic theory and environmental issues, themes which would eventually show themselves in his writing when he was gigging around London..
After London, Tom played on the music scene in Cambridge for a while before going off to Los Angeles to complete his studies at the Musician's Institute in Los Angeles. Tom then returning to London and became a regular on the London acoustic scene where he honed his skills.
In 2011, Tom's single 'Smile If You Wanna Get High' was played listed by BBC Radio 2. The subsequent release of his 2012 debut album 'Fire in the Doll's House' led to further airplay support from BBC 6Music and XFM, as well as being awarded 4-star reviews by Q magazine, Guitarist, Maverick and OK magazine. Further regional airplay support came from BBC Radio London, Manchester, Bristol, Wales, Three Counties and BBC Introducing.
Picking-up on the social commentary within the album, The Sunday Times heralded 'Fire in the Doll's House', proclaiming "the protest singer has a pulse again". Tom often reflects that that says more about the absence of any message in music today than any fist in the air he might have displayed.
Following this success, in 2013 Tom released an EP entitled 'Snapshots of Reality', which reflected on various themes, but not least his time as a founder of the Occupy movement in the UK, which provided much inspiration.
Having just about recovered from his injuries, Tom Moriarty is looking forward to picking-up where he left off in 2013, and getting back on 'The Road' in August 2105.
Tom Moriarty online:
www.tommoriarty.co.uk / @thetommoriarty / youtube.com/user/officialtommoriarty / facebook.com/thetommoriarty
The Road – a track-by-track, by Tom Moriarty
The Road
Song about being on the journey of life, looking for kindreds and hoping you meet them along the way. It's also about looking for people to join you in the fight.
Take Everything From Me
A love song about giving everything to someone, being a better man for being with that person, a person that makes you what are you are.
Chasing Angels
People can spend a lot of time chasing things that they think will make them happy only to find they're not real or that they aren't a source of happiness after all.
Me and the Sun
Well this is from when I went to the desert and sat down to talk with the sun about us and this planet.
By Your Side
It's about unconditional love and loyalty. The point is that you might not be able to hold back the tide but if you stand with someone, you stand with them come hell or high. It's about partners, mates, friends, whoever. My dog Watson is like that.
They Sing For You
About a friend of mine who was going through tough times. I wrote it for her so that she realised she was not alone and that when she next walked through the park the birds would be singing for her.
Wake Me Up
There are people in this world that delight in causing other people pain; bankers and their puppet politicians, but you can't hold the people down forever and we will not remain silent.
Wheel of Fortune
It's about the meandering fortune of life, of a man beaten up by it, trudging through it, betrayed by it, trying to make sense of it, paying for his misdemeanours, coming to terms with it all.
Hurricane
This song is about a young girl going from one bad situation to another, always on the run, breaking all her own rules along the way.
Rise Again
A father telling his young son that things are going to get better, trying to explain why things have been so difficult, the recession, bankers, reflecting on what's happened, but that he'll do whatever it takes to make things better "If I have to work my fingers to the bone, we will rise, rise again"...
Tel:+44 (0) 7966 557774 or E-Mail: dave@planetearthpublicity.com
www.planetearthpublicity.com