TOOTS AND THE MAYTALS ANNOUNCE FIRST UK TOUR IN FOUR YEARS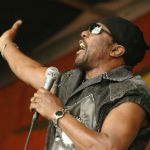 One of the world's best loved ska and reggae groups, the legendary Toots and The Maytals will tour the UK in August and September 2016.
Proceeded by festival appearances at The Big Feastival and Madness presents House of Common, Toots and The Maytals' eight-date tour will start at Bristol's Motion venue on Wednesday, 31st August, and end on Saturday, 10th September at Manchester Academy.
Led by the charismatic 'Toots' Hibbert, The Maytals formed in Kingston, Jamaica in 1961. 'Toots' popularised the reggae sound with hits such as 'Do The Reggay' (widely acknowledged as the first song ever to feature the word 'Reggae'), 'Pressure Drop', '54-46 (That's My Number)', 'Sweet and Dandy', 'Monkey Man', 'Funky Kingston' and 'Reggae Got Soul'.
Over the last five decades, 'Toots' has influenced countless artists, including The Specials, The Clash and Amy Winehouse, and has toured with the likes of The Rolling Stones, Dave Matthews, Sheryl Crow and Los Lonely Boys.
A five time Grammy nominee, Toots & The Maytals won the 2005 Grammy Award for Best Reggae album with True Love. The album featured re-recorded classic hits alongside popular and legendary artists including Willie Nelson, Eric Clapton, Bonnie Raitt, Keith Richards, No Doubt, Ben Harper, The Roots and Shaggy.
Toots has been absent from the stage for almost three years after suffering a head injury caused by a drunk fan throwing a glass bottle during a festival performance in Richmond, Virginia in May 2013. After intensive medical therapy, Toots has been cleared by his doctor to resume touring in 2016.
"It has been a difficult three years," said Toots. "But I am very happy to be able to now get back together with my musical family and prepare to share my music once again with my incredible fans."
This return to the stage by one of the greats of ska, reggae and rocksteady is being greatly anticipated by Toots' countless fans around the world, who rightly regard Toots as a living legend.
Toots and The Maytals' UK tour dates are as follows:
Wednesday, 31st August - Bristol - Motion - (Buy tickets)
Thursday, 1st September - Cardiff - Tramshed - (Buy tickets)
Friday, 2nd September - Brighton - Dome - (Buy tickets)
Tuesday, 6th September - Canterbury - Marlowe Theatre - (Buy tickets)
Wednesday, 7th September - Norwich - UEA - (Buy tickets)
Thursday, 8th September - Nottingham - Rock City - (Buy tickets)
Friday, 9th September - Newcastle - The Boiler Shop - (Buy tickets)
Saturday, 10th September - Manchester - Academy - (Buy tickets)
Tickets go on general sale on Friday, 6th May.
www.facebook.com/tootsandthemaytals
Festival links:
The Big Feastival: http://thebigfeastival.com/
Madness presents House of Common: http://www.madness.co.uk/houseofcommon/
For further information please contact Dave Clarke at:
Phone: + 44 (0) 7966 557774
E-mail: dave@planetearthpublicity.com
Web: www.planetearthpublicity.com
Twitter: @PlanetEarthDC