The Burning of Rome - 'Norman Bates' single press release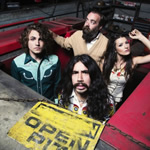 THE BURNING OF ROME
'NORMAN BATES'
RELEASE DATE: 18th March 2013
LABEL: SURFDOG/MEMBRAN
FORMATS: MP3 DOWNLOAD SINGLE
SAN DEIGO'S AWARD-WINNING BAND TO RELEASE NEW SINGLE
On 18th March, 2013, San Diego's The Burning of Rome will release their new single, 'Norman Bates', on Surfdog/Membran Records.
With the life and times of Alfred Hitchcock currently in the spotlight, 'Norman Bates' is a timely release from the winners of the 'Best Alternative' accolade at the 2012 San Diego Music Awards.
The Burning of Rome's lead vocalist & keyboard player, Adam Traub, said of the single, "Quite literally, this song portraits the schizophrenic meltdown of Hitchcockian character Norman Bates. He consciously sees motel guest Marian Crane as a damsel in distress; however, internal rants he hears from his deceased mother are brewing darker plots for the mislaid maiden."
"Norman Bates' is accompanied by a suitably creepy video, expertly directed by Patrick Fogarty. (Click here to watch the video: http://youtu.be/6TUMMue3YgI)
Taken from the band's forthcoming album, 'With Us', The Burning of Rome are looking to build on the success of the their last single, 'Cowboys & Cut Cigars', which enjoyed support at XFM, Q Radio and Bloodstock Radio.
Recorded in LA at EastWest studios and produced by Adam Traub and Grammy Award winner Tom Biller, 'With Us', is released on 25th March, 2013.
The Burning of Rome are available for interview. For further information please contact Dave Clarke at:
Tel: + 44 (0) 7966 557774 or E-Mail: dave@planetearthpublicity.com