The Young Folk to release debut album 'The Little Battle' on 8th September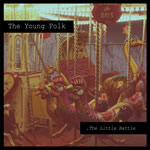 THE YOUNG FOLK
'THE LITTLE BATTLE'
RELEASE DATE: 8th SEPTEMBER 2014
RECORD LABEL: PIXIE PACE RECORDS
FORMAT: 1CD & DOWNLOAD
CAT #: EUCD2491
DEBUT ALBUM FROM IRELAND'S THE YOUNG FOLK SET FOR UK RELEASE
Widely-tipped Irish alt-folk band The Young Folk will release their debut album 'The Little Battle' in the UK on September 8th 2014 on Pixie Pace Records.
The UK release of 'The Little Battle' follows the Dublin four-piece's debut single 'Way Home', which received airplay from BBC Radio 1, BBC Radio 2 and BBC Radio Scotland, and the band's first ever tour of the UK in May 2014.
Regularly packing-out some of Ireland's best concert venues, The Young Folk have already received plaudits from the Irish press; The Evening Herald declared the band as "an accomplished musical aggregate that join the microdots between Villagers, Noah & The Whale and old Greenwich Village Kweskin Jug Band. This is folk in Cuban heels." Hot Press described the band as "serious challengers for the area populated by the likes of Fleet Foxes, Mumford and Sons and The Low Anthem.", while Dubliner Magazine labelled the band as "one of the most promising young Irish bands of recent years".
In addition, The Young Folk, who count Irish President Michael D. Higgins as one of their biggest fans, have appeared on established national TV shows in Ireland, including RTE's The Saturday Night Show and TV3's Ireland AM, and had their music feature on a national advertisement campaign for Jameson Irish Whiskey.
Having signed an international publishing deal with ARC Music UK, the band has spent the past eighteen-months recording 'The Little Battle' in between playing notable live dates such as Electric Picnic, The Cambridge Folk Festival, Midem, SXSW, The Stampede City Sessions in Canada, and opening for American folk-rock band Midlake during their American tour at the end of 2013.
Comprising of Anthony Furey (guitar, vocals), Tony McLaughlin (bass, mandolin, vocals), Paul Butler (keyboards, vocals) and Karl Hand (drums, vocals), nine of the ten songs on The Little Battle were written by Anthony and features songs about the fearlessness of youth ('Way Down South'), self-doubt ('I've Been There Before'), making the most of a bad situation ('Sad Day') and broken relationships ('My Friends'). The band's recent single 'Way Home' was inspired by Anthony's time away from home on tour with father, George Furey of the legendary Irish band The Furey Brothers. The only song on the album not written by Anthony is the track 'Letters', written by The Young Folk's keyboard player and vocalist, Paul Butler. A song about redemption, George Furey liked it so much he wants to record the song with his own band – the ultimate compliment.
The Young Folk will shortly announce a series of house concerts to support the band's next single, 'Way Down South', due for release on the 28th July.
The Young Folk online:
theyoungfolk.com
twitter.com/theyoungfolk
www.facebook.com/TheYoungFolkMusic
www.youtube.com/user/TheYoungFolkMusic
For further information please contact Dave Clarke at:
Tel:+44 (0) 7966 557774 or E-Mail: dave@planetearthpublicity.com
www.planetearthpublicity.comTwitter: @PlanetEarthDC