THE JAR FAMILY ANNOUNCE NEW SINGLE, DEBUT ALBUM AND UK TOUR DATES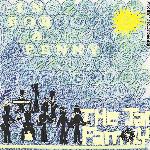 Following a personal invitation from Alabama 3, Hartlepool's rising stars The Jar Family have been confirmed as special guests for five of the legendary band's forthcoming UK tour dates.
With the band set to play to thousands of people, to coincide with the tour, which includes a prestigious dates at Newcastle's O2 Academy on 19th November, The Jar Family will be making their debut album, simply titled 'The Jar Family Album', available to download from iTunes on November 21st. On the same day the band will also release their new single, 'In For A Penny'.
The Jar Family, who formed 18-months ago when Hartlepool singer-songwriters Max Bianco, Dali, Al Devon, Richie Docherty, Chris Hooks and former Squeeze bassist Keith Wilkinson, quickly gained a loyal fan-base in the North East following a series of sell-out live shows and the release their now highly collectable 5 track 'Livingston Studio EP' in July 2010.
Filled with confidence, the band added Kerry 'jubjub' Edwards on cajon and James Clarke on keys, completing the 8-piece line-up. The band then decamped to the seminal Sawmill Studio to record their debut album, which was produced by Keith Wilkinson and then mixed by the legendary John Cornfield (Muse, Supergrass, Razorlight, Oasis, Athlete, amongst others etc).
As the band put the finishing touches to their album, they performed at Camp Acoustic at this year's Hop Farm festival and released their debut single 'Poolie Strut'.
In addition to becoming the most requested song in Radio Hartlepool's history, 'Poolie Strut' has now been played at all of Hartlepool United's home matches this season, resulting in the song now being chanted on the terraces by the home faithful.
With the band being lined-up as ones to watch for 2012, Keith Wilkinson said, "Alabama 3 asking us to support them for these dates is a huge honour and something we're very excited about. We'll be playing to thousands of people, so we've decided to make the album available on iTunes during the tour, ahead of physically releasing the album as planned in February next year."
The Jar Family will support Alabama 3 at the following UK tour dates:
November 2011
Sat 19th - O2 Academy, Newcastle
Sun 20th - O2 Academy, Leeds
Tues 22nd - The York Duchess, York
Sun 27th - Wrexham Central Station, Wrexham
Mon 28th - Civic Hall, Whitehaven
www.thejarfamily.com
www.myspace.com/jarfamily
www.youtube.com/thejarfamily
http://www.facebook.com/pages/The-Jar-Family/111038982303076
http://twitter.com/#!/TheJARfamily