The Last Republic - 'The Fear'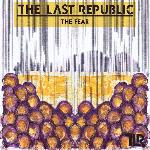 'THE FEAR'
Release Date: May 30th 2011
Label: Monnowtone
FORMAT: Digital download
"The Last Republic are the real deal." – Gordon Smart, The Sun.
The Last Republic are set to release their new single 'The Fear' on May 30th.
Taken from the band's critically acclaimed debut album, 'Parade', 'The Fear' might not paint the bleak images of George Orwell's 1984, but with our every movement tracked by our phones, the ever-increasing distribution of personal information (legally or otherwise) and more surveillance cameras in the UK than just about anywhere else, you know that when lead singer Jonnie Owen sings "We are all surrounded by machines, like a drug, they'll watch you go to sleep", he's fears Big Brother is already watching us.
Formed in Neath, South Wales, in 2008, The Last Republic toured the UK several times, performed at numerous UK festivals, received national airplay from BBC Radio 1, BBC 6Music, XFM, NME, Q and Kerrang Radio and played a sold-out support show at London's O2 Arena – all before releasing their debut album, 'Parade', to widespread critical acclaim towards the end of 2010.
Described by Owen as being about "the malaise of social degradation and the subversion of morality", 'Parade' is full of anthems for a generation, with the strangely uplifting melancholic melodies perfectly complimented by the distorted grandeur of the band's sonic soundscapes.
After extensively touring the UK for the final three months of 2010, The Last Republic began 2011 with a an invitation to perform at The News International Awards in London, where the band were introduced by The Sun's Gordon Smart as their 'Bizarre Top Tip for 2011', describing the band as "the real deal."
As one of the hardest working live bands around, The Last Republic spent January & February 2011 on two sell-out tours of mainland Europe before heading to Austin, Texas, in March to perform a string of packed live shows at this year's SXSW.
The Last Republic are heading out on the road in the UK once again throughout May 2011, before returning to the recording studio to complete their second album, due for release in Spring 2012.
For further information please contact Dave Clarke at:
Tel:+44 (0) 7966 557774 or E-Mail: dave@planetearthpublicity.com
http://www.youtube.com/thelastrepublicmusic
www.facebook.com/pages/The-Last-Republic/18664295318
www.myspace.com/thelastrepublicmusic
www.thelastrepublic.co.uk
MEDIA QUOTES
"The Last Republic are the real deal. Anthemic guitar riffs and foot-pounding songs from another great Welsh guitar band. With a bit of luck and the right breaks, they have a very bright future." - Gordon Smart, editor of Bizarre at The Sun
"Parade confidently indicates that the sky is pretty much the limit for The Last Republic." – Kerrang! magazine
"The Last Republic rustle up a big, blustery, stadium-sized noise on their fully fledged debut, Parade. Shades of Keane, Muse and Manic Street Preachers are everywhere, all driven home by Jonnie Owen's impassioned vocals. As recipes go, there's an undeniable logic." – Q magazine
"Vibrant cinematic tracks filled with energetic riffs and singalong choruses" – The Fly magazine
"Parade is bursting at the seams with epic tunes, and each one of them has anthem written all over it…The Last Republic have lived up to the expectation and finally look like a band that are worthy of the hype, long may it last." – 9/10 – Subba-Cultcha
"Their songs have just the right amount of heat and light…and any formula that allows for the fierce kick and shameless love and melody of 'Let's Make Bomb's' can't be all bad" - 7/10" – Rock Sound magazine
"anthems for a generation" – Music Week
"Wales' hottest new band don't disappoint" – Look magazine
"Speaking of the future, here are a band who have a big part in it." – Zane Lowe, BBC Radio 1
"The Last Republic – a band whose potential for broad appeal is complimented with grand guitar riffs, beautiful soaring melodies and a healthy punch of attitude" – Kerrang! Radio
"The Last Republic are making a name for themselves as purveyors of soaring epic anthems...Catchier than the clap and dressed sharper than razors, it's clear that The Last Republic have the proverbial 'bigger things' lined up squarely in their crosshairs." – Huw Stephens, BBC Radio 1
"The Last Republic have unbelievable vision." – XFM
"We know we're going to be inundated with love for this band"- Bethan Elfyn BBC Radio 1
"One of the best new bands to emerge from Wales? Of course not! More like one of the best from the whole of Great Britain" ***** (5 Stars) – GetReadyToRock.com
"It's hard to see how The Last Republic's synth led indie/rock sound could possibly fail." – Rhythm magazine
"CCTV and The Fear are stomping pieces of catchy perfection" – Buzz magazine
"One listen to "Parade" will prove to anyone that The Last Republic are the most exciting band to come from anywhere this year; truly exceptional stuff." – AAA Music
"The band are set to make the leap into the big-time and join fellow Welsh bands Lostprophets, The Blackout and Funeral For A Friend" – Entertainment Focus
"There is talent in the vocals and it's easy to understand how the group have formed a loyal fan base with their pop-rock tunes, highlighted by title track 'Parade'" – The Press Association
"Superb" – Alter The Press
"'Parade' is a calling card for a band who are undoubtedly going to be a major part of the UK's musical landscape." – Punktastic
"Undeniably a fantastic album, heartfelt, moving, interesting and refreshing which should be missed by nobody." 9/10 – Virgin.com
'Parade' is a great record, and should see the band reaching the heights of better things. A band to watch out for. **** (4 stars) – God Is In The TV
"One of the best lyrical works here is the title track, 'Parade'…it's a perfect ending to a well rounded and somewhat epic album." 7/10 – This Is Fake DIY
"The Last Republic will have a very bright future and will be a band to keep your eye on over the next few years." 5/5 – Alternative Vision
"This is excellent pop rock led by a guy with a voice that is a winner! So damn catchy that it's annoying." – Classic Rock Society
"The Last Republic would appeal to anyone into rock, indie or alternative bands of any shape or form and they offer a break from the plethora of samey bullshit we have become accustomed to the last few years." – ALT Sounds
"'Parade', a stunning debut album" – Music News