Tiécoro Sissoko - Keme Borama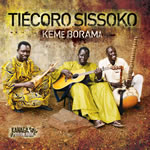 'Keme Borama'
Release date: 9th December 2013
Label: K.S.K Records (Kanaga System Krush)
Format: CD & download
POSTHUMOUS RELEASE FOR CELEBRATED MALIAN GUITARIST
Tiécoro Sissoko was born in 1946 in Kenieba, in the Kayes Region of Mali. He is from a
large family of musicians. His father was the chief of the village Griots and his mother
was a renowned singer. The first instruments he played were tamani and n'goni. Among
his earliest musical influences were two of his brothers, one a kora player, and the other a
guitarist, Djelimady Sissoko.
When Tiécoro first moved to Bamako in 1968, his brother Djelimady helped him buy his
first guitar. It was then he began studying with his brother, devotedly. Always eager to
learn more, he used to pick up songs by listening to the radio. He has played with many
artists such as Mangala Camara in Kenieba, and Zani Diabate in Bamako, and in various
groups, including Bama Sabba and Bambara Percussion Group. He formed his own band
called Super Sabaiya, which later became Tomonkorobogou Fulani, with a variety of
artists including Duga Sissoko.
Tiécoro passed away in May of 2012, just weeks before his first album Keme Borama was
to be released by K.S.K. Records. He also will be featured in the documentary K.S.K. is
producing on the Life and Music of Mali.
Tiécoro played weddings, ceremonies and concerts in Bamako up until the last days in his
life and he used to perform every week with the world-class kora player Toumani
Diabate. In his life, he toured throughout West Africa and France. His legacy will live on
through his album Keme Borama and his appearance in the documentary to be put out by
K.S.K.
Long live Tiécoro and his music.
http://kanaga.systemkrush.com/
For further information please contact Dave Clarke at:
Phone: + 44 (0) 7966 557774
E-mail: dave@planetearthpublicity.comWeb: www.planetearthpublicity.comTwitter: @PlanetEarthDC